Stefan Dürr, EkoNiva Group President, and Roman Starovoyt, Kursk oblast Governor, have signed an addendum to the Cooperation Agreement on the implementation of investment projects in the region. Three years ago, EkoNiva and the local government announced their partnership to encourage investment in the region aimed at the development of Kursk oblast economy.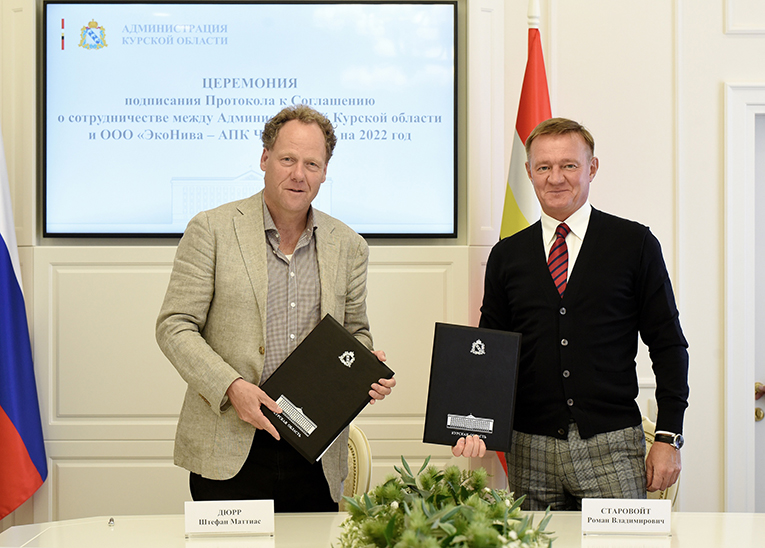 At the meeting Stefan Dürr reported on the current performance of EkoNiva facilities operating in the region. The Group used its own funds to scale up the production and seed storage capacity. The in-house breeding programmes developed by the company for several years now are bearing fruit: two winter wheat and two soya bean varieties have been entered into the State Register of Plant Breeding Achievements Approved for Use. Developing domestic seed production, the company contributes to the food security of Russia.
In the 2021/22 season, the sales of the Group's seed division reached 2.9 billion rubles (+26% year-on-year). EkoNiva cooperates with small farming enterprises as well as giant holdings in 70 regions of Russia. The company also exports seeds to Belarus, Armenia, Azerbaijan, Kazakhstan, Uzbekistan, Kyrgyzstan, Mongolia and Ethiopia.
Boosting Kursk oblast's investment potential, enhancing the seed breeding sector, creating new jobs and expanding the tax base are top-priority tasks for the local government and business.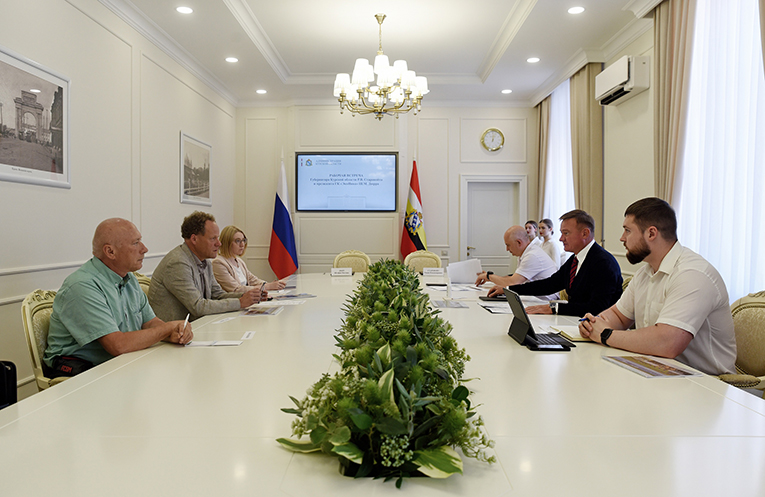 The Group's strategy aimed at ramping up its business activities in Kursk oblast was high on the agenda. Plans are afoot to step up seed growing, establish a logistics centre and a maize grading plant, increase the total land area, launch the Belsakhar sugar refinery plant and develop a retail chain selling natural dairy under the EKONIVA brand.
This year, Zashchitnoye, a plant breeding and seed growing subdivision of EkoNiva Group in Kursk oblast, has celebrated its 20th anniversary. Today, Zashchitnoye operates on an overall area of 38,500 ha in Shchigry and Solntsevo districts producing over 80,000 tonnes of seeds per year. Zashchitnoye runs in-house winter wheat and soya bean breeding programmes. The State Register of Plant Breeding Achievements Approved for Use already includes five varieties of highly adaptive wheat and three varieties of soya bean bred by the company. Along with seed production, the Group is developing dairy farming in Kursk oblast: a facility for 1,100 head of cattle, of which more than 550 are dairy cows, operates within Zashchitnoye.