EkoNiva-Semena presents its seeds and heifers at Don Field Day
Press-centre / News,
EkoNiva-Semena, a seed growing and plant breeding company within EkoNiva Group, has taken part in Don Field Day for the sixth time. The exhibition was held on 9-10 June in Zernograd district, Rostov oblast. The company displayed pedigree cattle and a crop variety portfolio with a particular focus on legumes.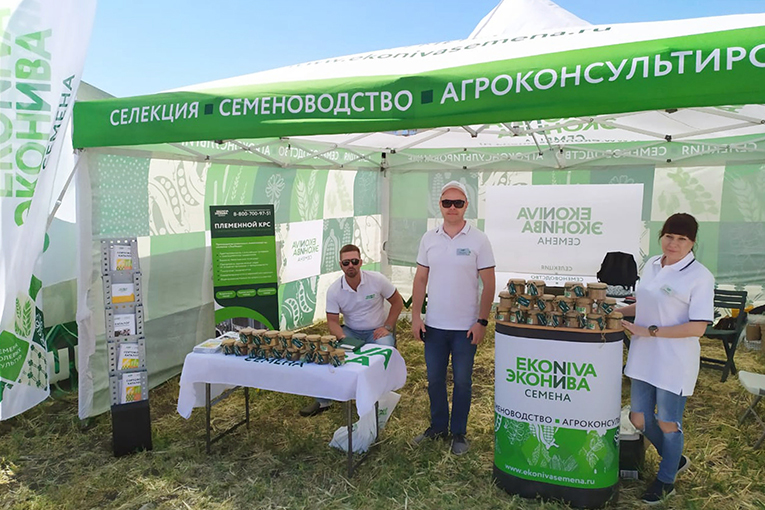 This year, the event has attracted over 150 farming enterprises from different regions of Russia and near abroad. At Don Field Day, cutting-edge developments in agrotechnology, hundreds of crop varieties and state-of-the-art machinery units were displayed to the attendees. Over 100 delegates paid a visit to EkoNiva's booth during the event. Some agreements were reached at the end of the meeting.
'The company is constantly increasing its customer base in southern regions of Russia. Crop varieties of own breeding, as well as seeds from commercial portfolio, such as cereals, pulses and oilseeds are gaining in more popularity. We have something to offer for every local farmer', says Yevgeniy Kucheryavenko, Executive Director of EkoNiva-Semena.
Belmondo, Jackpot, Trendy, Rocket and Madras commercial pea varieties demonstrate a high productivity potential in southern regions yielding 5-6 tonnes per hectare. In general, all pea varieties are excellent preceding crops, that is why local farmers introduce legumes into crop rotation.
Recently, soya beans, chickpeas, lentils, oilseed flax have started generating growing interest from farmers. EN Argenta variety is highly responsive to agricultural background, meanwhile ensuring a consistent yield even in poor soil moisture conditions. Triumph chickpea variety has been released for all regions. It is distinguished by a large calibre, which is especially significant for the export crop. Due to the increasing importance of oilseeds in the Southern Federal District, mid-maturing Serpent oilseed flax is in high demand.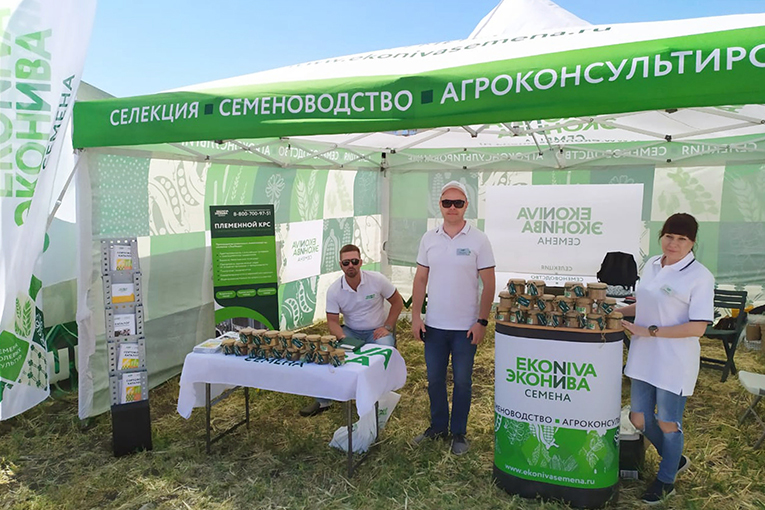 'CDC Redcoat lentils show good performance – about 2.4-2.6 tonnes per hectare that exceeds the productivity of local varieties by 10%. Winter wheat remains one of the major crops for southern regions. Drought-resistant and heat-tolerant varieties are the most popular', says Maksim Golovanev, EkoNiva-Semena Sales Representative.
Local farmers purchase universal winter wheat varieties distinguished by a high plasticity of in-house breeding: EN Taygeta, EN Albireo and EkoNiva's flagship product - EN Cepheus. During the trials in the fields of Krasnodar area last year, EN Cepheus demonstrated the productivity of about 7.8 t/h, which is significantly higher as compared to the average 6.6 t/h across the region.
Moreover, EkoNiva's pedigree dairy cattle are in demand in the south of the country. The company sells heifers of Simmental Red-and-White and Holstein Black-and-White breeds and guarantees that all animals have a high genetic status and are well-adapted to large commercial dairy environment.