The title of the Honoured Agricultural Worker of the Russian Federation has been bestowed upon Tatyana Kaplina, a milking machine operator from EkoNivaAgro. The respective decree signed by Russia's President Vladimir Putin was published on the Kremlin's website.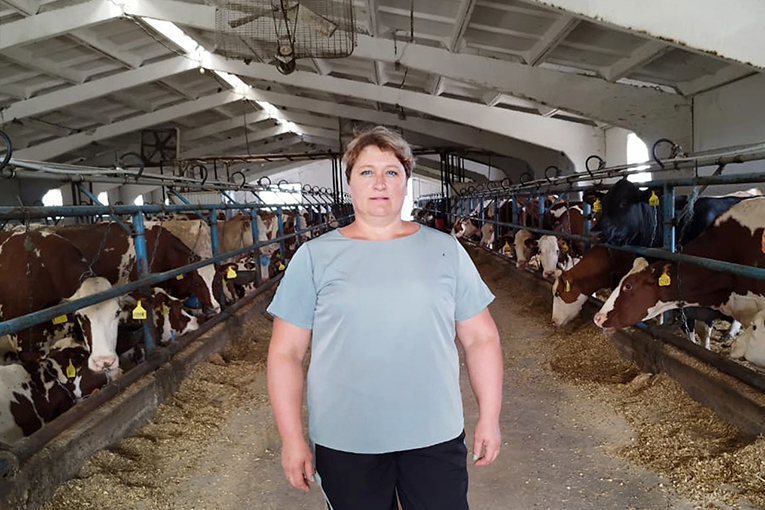 The Liski district administration supported by the Department of Agricultural Policy for Voronezh oblast submitted her nomination for the state prize in 2021.
Tatyana Nikolayevna Kaplina has been working on EkoNiva's dairy farm in Shchuchye village since 2002 at the onset of EkoNivaAgro's evolution.
'EkoNiva inherited this dairy from an old collective farm. Today, after renovations and upgrades, it's a prosperous livestock farming division with a tie-stall housing system. We keep here 1,400 head of cattle, 640 of which are dairy cows', says Vladimir Frolov, Head of Shchuchye farm.
Seventy-five milking cows in Tatyana's care give record-breaking amounts of milk daily, up to 40 kg per one animal.
'Tatyana Nikolayevna is a committed professional highly respected both by her colleagues and villagers. She has numerously participated in regional and national contests for milking machine operators and earned a number of awards. In 2014, EkoNiva gave her a car as a token of appreciation', comments Aleksandr Nesterenko, Director of EkoNivaAgro-Right Bank Operation.
Her workdays start at the crack of dawn at 5 in the morning. The tasks are quite demanding as she has to take care of the animals and milk them twice a day each time lasting for 3 hours. The secret of high yields lies in a genuine passion for the job.
'My mom worked as a milkmaid all her whole life. I used to watch her working and decided to follow in her footsteps and here I am, having dedicated more than 25 years to this job. I treat all animals with love. Cows sense my care, warmth and good mood, just like people do, hence high yields', shares her secrets Tatyana Nikolayevna.