Savinskaya Niva, an organic farm of EkoNiva Group, has moved over 130 dairy cows to its organic herd after the conversion period. Thus, the herd has expanded up to 370 dairy cows and the daily milk output has grown by 35% reaching 4 tonnes of organic milk per day.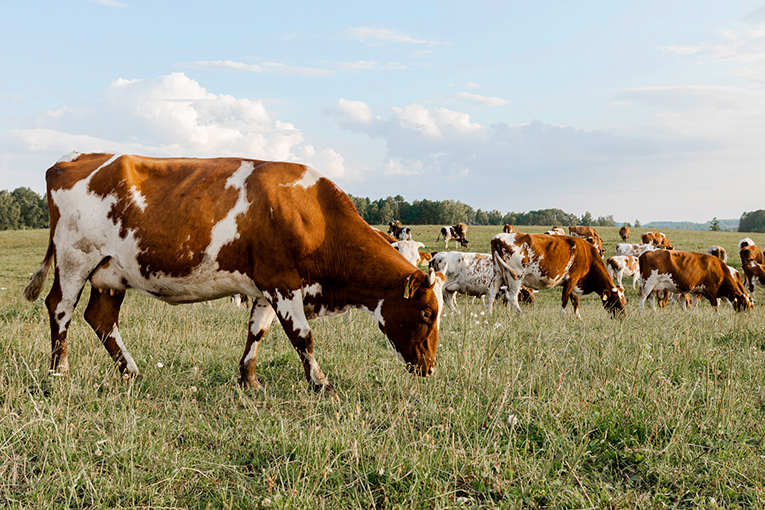 One hundred and thirty-nine heifers of Black-and-White, Red-and-White, Swiss, Simmental and Ayrshire breeds arrived to the farm from Kaluzhskaya Niva in March. It took them 6 months to go through the conversion period and adapt to natural environment.
'The cows graze freely on natural and cultivated pastures, feeding on exclusively organic fodder grown in Savinskaya Niva', says Karolina Vasilyeva, Milk Quality Assessment Department Manager.
The cows were calving from June to August delivering in total 127 calves. Out of them, 88% are heifers and will further produce offspring with a high genetic potential.
'Cows are social creatures therefore we do our best to ensure natural social environment for them from the early age. In accordance with the Organic Farming Regulation, calves are housed in small groups to be able to socialise. And, of course, they are fed on warm organic milk only from day one', adds Karolina Vasilyeva.
Over the six months, the cows were going through conversion, which ended early in September. They were kept and milked separately from the main herd. But now their milk fully meets all the organic standards.
The organic milk is processed at the Group's plant in Kaluga oblast certified in compliance with the European and Russian standards. EKONIVA Organic pasteurised milk has been produced there for 3 years now. In 2022, the range has been extended by the UHT Organic milk having long shelf life.