Voronezh oblast Governor Aleksandr Gusev has honoured EkoNivaAgro top performers on Agriculture and Processing Industry Workers' Day.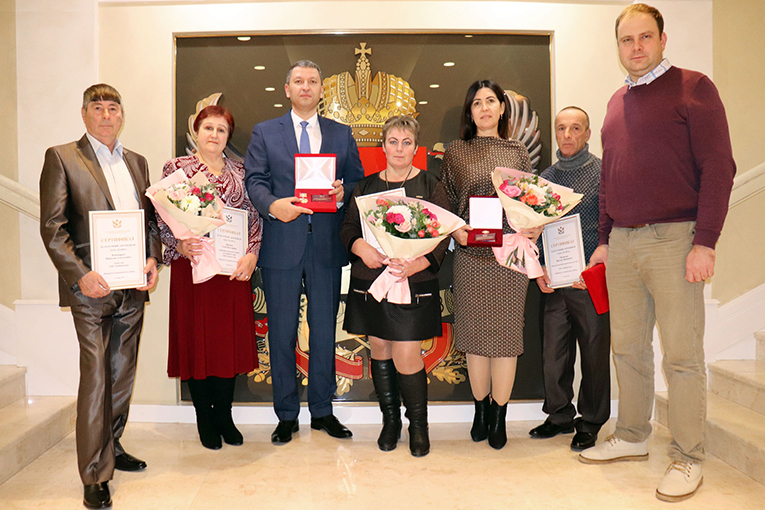 Four EkoNivaAgro specialists – milking machine operators Yelena Bokova and Yelena Babkina, calf tender Viktor Malyugin and lorry driver Nikolay Ponomaryov – were rewarded with certificates for new cars for outstanding performance and winning the regional contest 'Best in Profession'.
The governor also presented badges of honour of the Voronezh oblast government 'Gratitude from the Voronezh land' to the first deputy regional director of EkoNivaAgro Roman Volodin and the adviser to the director of Anna milk plant Vladimir Troynin. EkoNivaAgro chief veterinarian Tatyana Kirillova received the badge of distinction of the Voronezh oblast government 'Honorary Mentor of Voronezh oblast'.
'The love for and dedication to work gives our top performers strength and enables them to deliver outstanding results. The conscientious attitude to their duties demonstrated by these people inspires others. It is gratifying that the performance of our employees has been recognised at a governmental level. It means that some of the best industry professionals work at EkoNiva', comments Roman Volodin.
Voronezh subdivision of EkoNiva has completed the current year with good key performance indicators – approx. 240,000 tonnes of grains, 285,000 tonnes of sugar beets, 20,000 tonnes of soya beans and over 330,000 tonnes of fodder in dry matter have been harvested. The dairy farms produce 1,350 tonnes of milk a day and by the end of the year the gross milk yield is expected to reach 460,000 tonnes, which accounts for more than half of the region's total.