Following the 2022 farming year, twenty-three employees of Agrofirma Mezhdurechye have been awarded for achieving high production efficiency. The event aimed to sum up the results of the season and celebrate the farm workers took place at Yarkovo Culture and Leisure Centre in Yarkovo district, Tyumen oblast.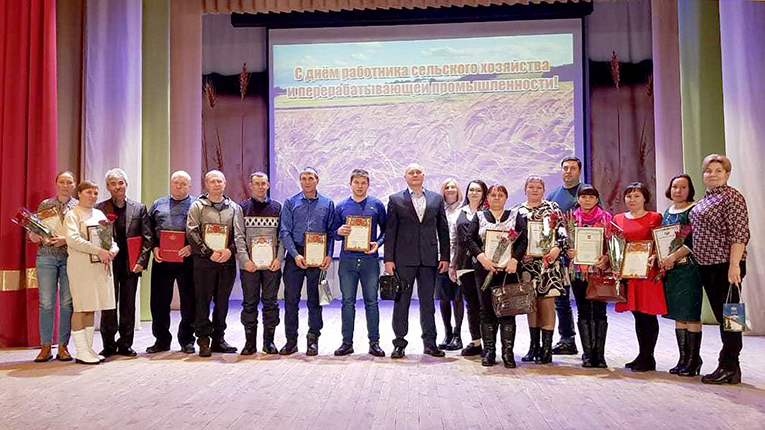 Certificates of honour from the Agriculture Department of the region were presented to milking machine operators Oksana Sobyanina and Galiya Sharafutdinova, veterinary assistant Alla Chernykh and deputy senior accountant Irina Kameneva. Foreman of the machinery fleet of Mezhdurechye Boris Abyshev was awarded a diploma of merit from Tyumen Regional Duma, while machine operator Vasiliy Kukarskikh and driver Haydar Abdulin received appreciation letters from the chairman of the regional parliament. The work of machine operators Eduard Ramazanov, Andrey Krivoshchyokov and milking machine operator Gabriela Atneyeva was praised by the Regional Duma. Senior veterinarian Mikhail Zhigachyov and machine operator Nikolay Konyshev got valuable gifts from the regional legislative assembly. Last but not least, the head of Yarkovo district expressed his gratitude to hoof trimming specialist Askhat Galeyev and milking machine operator Ramilya Sabirova.
In addition, ten employees of Mezhdurechye became winners of district farming sector competitions and were awarded diplomas and cash prizes from the administration. They are machine operators Nikolay Konyshev, Aleksandr Batarev, Sergey Antuganov and Sergey Shabalin, driver Yuriy Ramazanov, milking machine operator Alyona Kalashnikova, dairy herd care operator Zagir Abutalipov, rearing operator Nelya Shakirova, nutrition technician Leonid Yezhov and herd reproduction specialist Yelena Detskikh.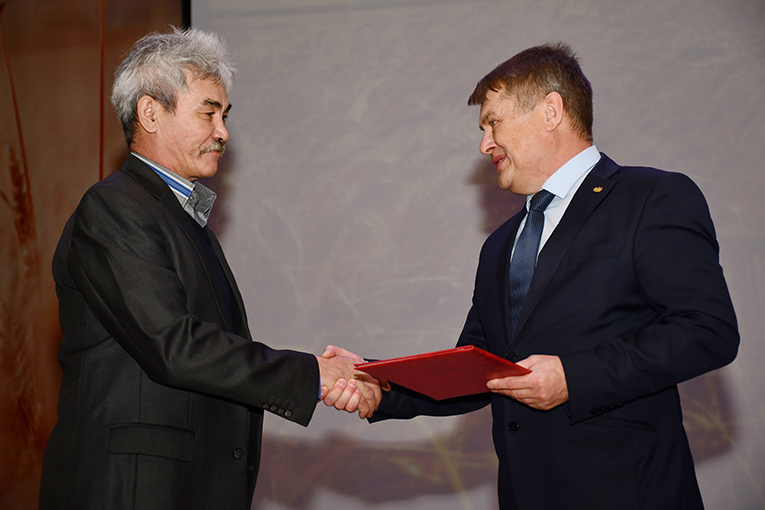 'In 2022, Mezhdurechye, an enterprise farming 4,200 hectares, has harvested over 35,300 tonnes of fodder in physical weight – by 30% more than last year. Thus, the company has fully met its own feed needs. As for the gross milk yield, it is expected to reach 22,700 tonnes by the end of the year, which exceeds the 2021 figure by 15% and is by 20% higher than in 2020. The enhanced performance comes down to the boosted animal productivity due to a better balance of the rations, the development of the herd genetic potential, the use of cutting-edge digital herd management and feeding systems, including the in-house solution EkoFeed, as well as to the company's tight-knit team', notes Yuriy Spiridonov, Regional Director for Moscow, Leningrad and Tyumen oblasts, EkoNiva Group.
Agrofirma Mezhdurechye has been part of the holding since 2011. The company's core area of activity is dairy farming, but it is also engaged in the production of commercial grain, cereals, pulses and feed crops. The total herd size amounts to 3,800 head, of which 2,100 are dairy cows. The daily output of the enterprise exceeds 56 tonnes of milk.
The photos are provided by Kultura Municipal Autonomous Institution, Yarkovo municipal district.