Semyono-Makarovo dairy farm has hosted an offsite Bashkiria Government meeting devoted to dairy farming development. The meeting chaired by Radiy Khabirov, Head of the Republic of Bashkortostan, has been attended by Stefan Dürr, EkoNiva Group President, Artyom Belov, Director General of the National Union of Milk Producers, members of Bashkiria Government, namely Andrey Nazarov, Prime Minister, Ilshat Fazrakhmanov, Minister of Agriculture and heads of all municipal districts.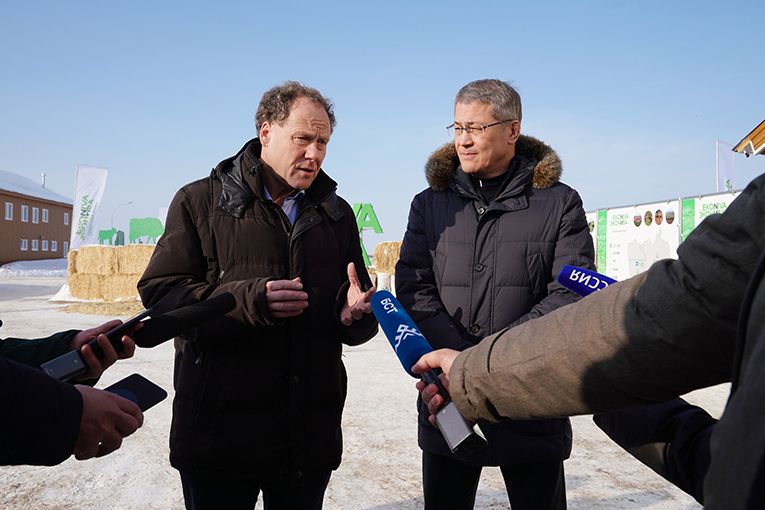 The meeting participants discussed the dairy industry performance in the region, the strategy of milk production development and implementation of new investment projects.
The group toured new Semyono-Makarovo dairy to learn about the basic operation principles and practices applied by EkoNiva Group on its modern farms. Commissioned in the autumn of 2022, Semyono-Makarovo is a one-of-a-kind enterprise in the republic in terms of scale: it houses 2,800 cows and 3,200 head of young stock. The facility design and equipment – the free-stall housing system and the 72-stall rotary milking parlour – are geared to ensure cow comfort. The investment totalled 3.1 billion rubles. EkoNiva employs advanced software solutions for herd management and feeding, including the in-house Eko.Feed software. The herd consists of high-yielding Holstein cows. In January 2023, the gross average daily milk yield reached 90 tonnes.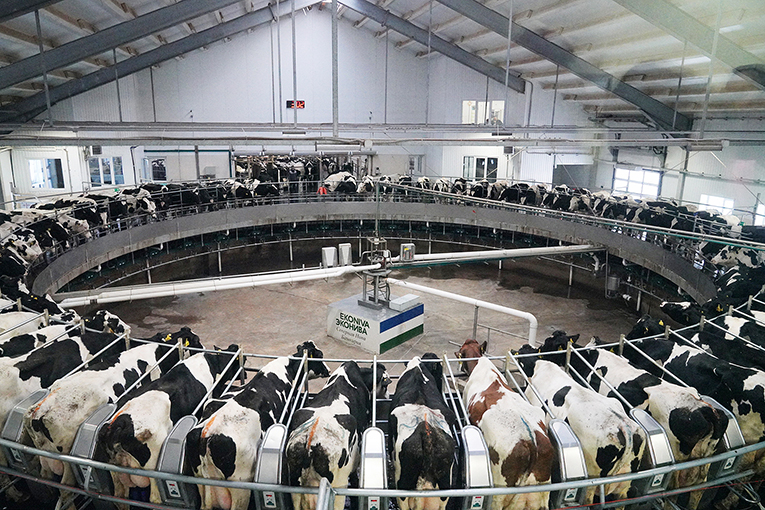 Radiy Khabirov commended the EkoNiva management for the project.
'Merely four years ago, it used to be a field whereas now it is a high-tech dairy farming facility. Thank you for trusting us. I look forward to more fruitful cooperation in the years to come', emphasised Radiy Khabirov.
Last year, EkoNiva celebrated its 20th anniversary of operation in the Volga Federal District, the region which is strategically important to the whole EkoNiva Group.
'We highly appreciate the attention and support of the republic's government, which enables us to create new jobs and provide comfortable living and working conditions for people in the rural area. Together we will continue contributing to the social and economic development of the entire region', stated Stefan Dürr, EkoNiva Group President.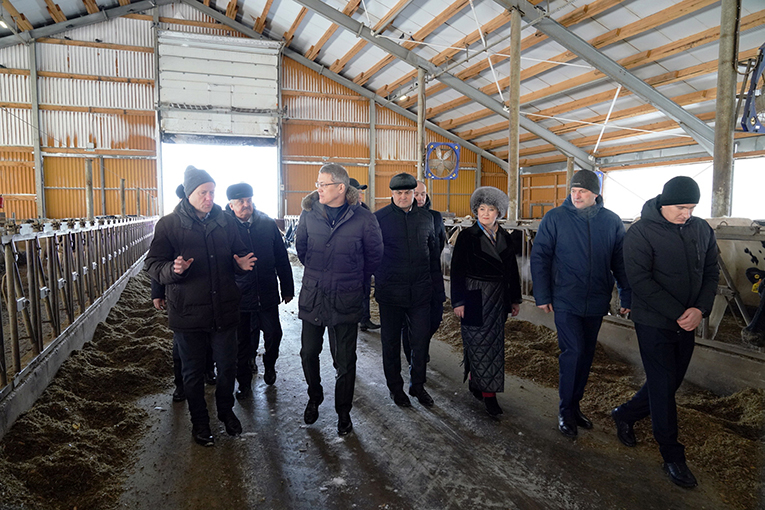 Photographs: Press-Centre of the Bashkortostan Republic Administration